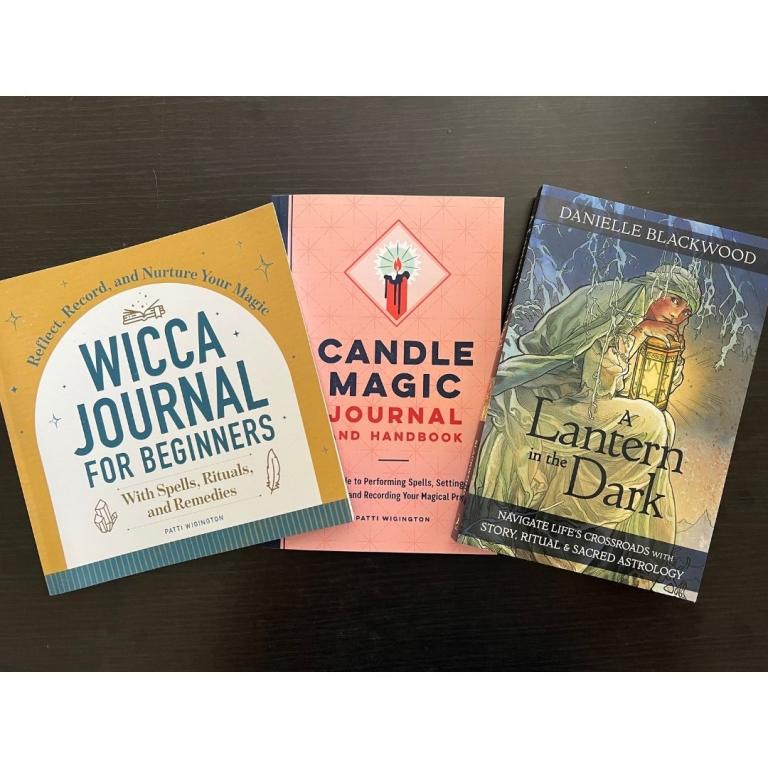 The one where I review books on magic and mystery
I wanted to do these book reviews.
Really. I had a stack of books sitting on my desk (well, under my desk) for a while.
And I have more on the way.
I'm glad I had a chance to review them as they changed some things that needed to be changed. And reminded me to get back to my why.
"Wicca Journal for Beginners: With Spells, Rituals, and Remedies" and "Candle Magic Journal and Handbook"
I like Patti Wigington. I have followed her since my beginnings in witchcraft when I wanted to know everything. I have followed his About.com Paganism & Wicca (now LearnReligions.com) channel and many of his teachings have found their way into previous Books of Shadows.
So when I had the chance to review his two recent books, I was thrilled.
Let's start with "Wicca journal for beginners." I really enjoyed this book and its approach to the practice of Wicca. One of the things I expect from books today is for the reader to offer the reader confidence. While there are certainly ways to teach and offer must-know lists, I learned the most by DOING. This book helps you do it and also helps you debrief it.
Better said – how did things go? How did they work for you? Did you expect something different? What could you change next time?
I think it's a great book for someone just starting out and also for someone who likes to review their practice from time to time. So really, anyone who wants to feed their magic(k).
And switch to "Magic Candle", it's also a journal book that gives the reader plenty of space to document what works, what doesn't, etc. This book also includes simple instructions for candle magic, or magic that I do most often (and I'm pretty sure a lot of people do…), making it an instantly valuable resource.
What I liked the most about this were the questions about WHY you are doing the spell. The focus on intent and the true power behind each spell is a great reminder for everyone, whether it's the first or the hundredth spell you've done.
WHY ARE YOU DOING THE THING YOU WANT TO DO?
Just like in life, if you don't know where you want to go, you're probably going to feel lost along the way….
A Lantern in the Dark: Navigate the Crossroads of Life with History, Ritual, and Sacred Astrology
I followed Danielle Blackwood's been working and posting on Facebook for a while too. And I've been in a personal space of questions and more questions, so this book seemed divinely timed to arrive.
I'll be honest, I haven't gone all the way, and much of my review will probably touch on things lightly, as my personal experiences aren't necessarily something I want to share (yet/ever).
One of the things I liked the most (and apparently needed) was the astrology section. I'm still fairly new (but eager) to learn sky interactions, so I was curious if I would understand what was on offer.
Although I can't speak to everyone's experience, I found "A lantern in the dark" be accessible and supportive. The Uranus opposition chapter really tells me a few things, so I can imagine other chapters might resonate with other age groups. By learning the context of the appearance and myth of Uranus, I was able to give some life circumstances a little more context.
It helped my heart a bit, even though it basically said – well, this time it's about upheaval. But the next chapter offered a few ways to navigate. It also confirmed some advice I've already received and some dreams I've had before.
(I guess that means I should, I don't know, LISTEN?)
Overall, this book is a great read for the hard places. And these days, so many of us experience such things. It's always good to have a guide.
***
Although I'm not a person who believes Everything happens for a reason, I believe that humans (well, me) make sense of what is happening. Thus, creating context and reason.
These books came into my life at the best time. The right time, even.
Thank you.
***