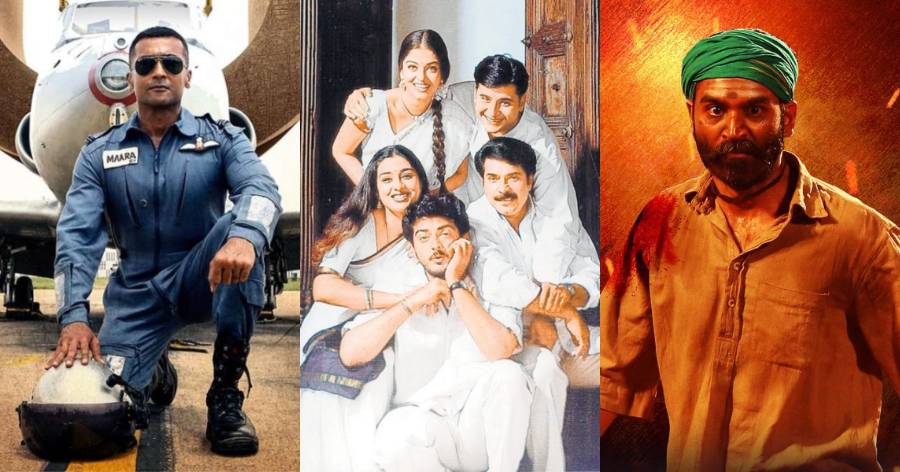 Tamil movies adapted from asuran soorarai pottru novels and books
Over the years we have seen countless movies remade in Tamil and most of them have done surprisingly well. Interestingly, there are also a bunch of Tamil movies based on novels, books, and short stories that contain enough source material to offer a fantastic visual representation of the written medium. Let's take a look at some of these films that have been successfully adapted from written texts (in no particular order):
1) ALAVANDHAN:
Featuring Kamal Haasan in two roles, the film revolves around brothers Nandhu and Vijay, who were abused by their stepmother during their youth. Nandhu, a paranoid schizophrenic, decides to kill Vijay's fiancé as he views her as his stepmother. The film is an adaptation of the novel Dhayam written by Kamal Haasan himself in 1984 for the newspaper Idhayam Pesugiradhu.
2) MALAR MULLUM:
Partly based on the novel of the same name by Uma Chandran, the film revolves around a laborer, Kaali, whose boss suspends him for dereliction of duty. Furious, he gets drunk and has an accident that leaves him jobless. He soon gets his chance for revenge by rejecting his boss's marriage proposal for his sister.
3) YARKAI:
This film is loosely based on the short story sleepless night written by Fyodor Dostoyevsky. It tells the story of Marudhu, an orphaned ship's engineer and sailor, who lands in the port of Rameshwaram and decides to give up his seafaring life and settle down. He develops a fondness for Nancy, who sells fruit and other items to sailors arriving in port. But, she initially refuses all his advances as she continues to wait for Mukundan, the captain of a ship that had docked three years ago, despite promising to return in a year.
4) KUTTRAM 23:
Based on the novel Enni Ettavatu Naal by Rajesh Kumar, the story is about ACP Vetrimaaran, an honest and dedicated policeman stationed in Chennai. While working on the simple case of a missing woman, he comes across a major criminal racket involving medical professionals.
5) YACHAN:
Adapted from the novel of the same name by Subha (writer duo D. Suresh and AN Balakrishnan), Yatchan is about two people with dreams who accidentally swap places through fate and their common key to returning to their lost lives and defeating the antagonist through the girl who he wants dead since she can foresee the future.
6) KANNATHIL MUTHAMITTAL:
This film is based on the book Amuthavum Avanum by Sujatha. The film tells the story of Amudha, a 9-year-old girl who, after learning that she has been adopted, decides to find her biological mother. His parents Thiruchelvan and Indra insist on accompanying him, and so together they leave the comfort of their home in India to venture into the war-torn areas of Sri Lanka, where they witness violence and brutality. of the civil war. Eventually, they discover Shyama (Nandita Das), who explains that she abandoned her daughter to fight for the separatist cause.
7) KANDUKONDAIN KANDUKONDAIN:
It tells the story of two girls, Sowmya and Meenakshi, who are of marriageable age. But Sowmya is called "unlucky" after her fiancé decides to take her own life. Meenakshi, however, seems to find love in the form of a poet-loving businessman. Yet many obstacles remain as the two girls struggle to find the right man and keep the family finances in order. The film is based on Jane Austen's 1811 novel Sense and sensitivity and features an ensemble cast of Mammootty, Ajith Kumar, Tabu, Aishwarya Rai Bachchan and Abbas.
8) PARADESI:
Based on the 1969 English novel red tea by Paul Harris Daniel and inspired by real-life incidents that occurred before independence in the 1930s, it revolves around a group of villagers who are lured to work on a tea plantation run by British officers. They do not know that there is no chance of returning home.
9) NAAN KADAVUL:
The film is based on the Tamil novel Yezhaam Ulagam by Jeyamohan, who also wrote the film's dialogue. The gist of the story is that Rudran's family abandons him when he was a child in Kashi for 14 years citing astrological reasons and he grows up to be an Aghori or fierce ascetic. Even after his family comes to pick him up, he refuses to accept them.
ten) VISARANAI:
The film deals with a group of immigrants who are tortured to plead guilty to a crime they did not commit. When a policeman from their hometown helps free them, they agree to do him a favor in return, unaware of the trouble they are getting themselves into. The first half of the film is based on the novel lock up by Mr. Chandrakumar with the second half written entirely by Vetrimaaran himself.
11) SOORARAI POTTRU:
Based on Simply Flying: A Deccan Odyssey by GR Gopinath, the film is about Maara, a young man from a remote village, who dreams of starting his own affordable air service for people of all classes. However, he must overcome several obstacles and challenges in order to succeed in his quest.
12) ASURAN:
The film based on Poomani's novel Vekkai, tells the story of a farmer, Sivasaami, who lives with his wife and children in a remote place with a small farm. When a wealthy and greedy baron from the nearby town wants to take his land, he goes on the run with his family as he is forced to protect his son, who murdered the wealthy tycoon in a fit of revenge.
Two of the highly anticipated films to be released in the coming years have also relied on the novels as their source material. Ponniyin Selvan, Mani Ratnam's epic historical fiction is adapted from Kalki Krishnamurthy's novel of the same name while Vetrimaaran's Vaadivaasal is based on Vaadivasala novel by the late writer CS Chellappa.