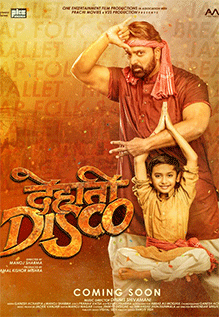 Story:
A local politician and his dancer son want the Shivpur community temple demolished to build a dance academy. Bhola and his son Bheema challenge him to a dance. If they win, the temple will remain.
Exam: A boy from Shivpur village, Bhola, loves to dance but his father, the chief priest, thinks it is a dishonorable thing to do. Burning the kid's leg to deter him doesn't help, so he disowns the young boy. Bhola grows up and has a son, Bheema, who inherits her talent and love for dancing.
Enter an aspiring dancer, Jack, the son of local politician Dubey who wants to demolish the village temple to open a dance academy because the family astrologer says that's his path to success. The head priest and the villagers are against the idea, but Dubey is determined. The solution: Bheema will defeat Jack in a dance to save the temple.
What follows is Bhola and Bheema dancing the dehati style to compete with krumping, Jack's hip-hop, etc. But the dance does not seem to be the mainstay of the film, but portraying Bhola as the righteous and brave son of the ground.
Dehati Disco is like a soap opera on the big screen. Stereotypical villagers, melodramatic, loud dialogues desi songs playing one after another and shocking camera work.
Ganesh Acharya (as Bhola) tries hard but doesn't make a cut as an actor. Although it is a dance drama with a choreographer as the main hero, the choreography does not do the theme justice. Child actor Saksham as Bheema is always a delight to watch as a dancer. If Manoj Sharma's staging is passable, the weak scenario does not support it at all.
Overall, Dehati Disco is over the top and cliche, and harps on "desh ki mitti" without rhyme or reason.