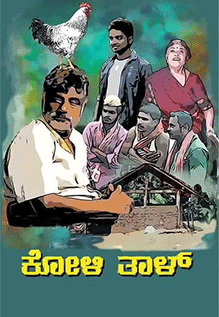 A heartwarming tale filled with lighthearted moments
Ground:
When their grandson Sumanth returns to their hometown for a visit, Vanaja and Mahabala Shetty are overjoyed and want to make his favorite chicken curry (koli taal). But their plans go wrong in this comedy of errors

Exam:
Young independent filmmaker Abhilash Shetty brings out the flavors of Malnad in his film Koli Taal. The film has been a regular on the festival circuits and sees its theatrical release this week. It's a simple, rustic tale of emotions and village life, filled with quirks and antics. It might not be that watch on the edge of your seat, but it brings those smiles and delivers a different experience.
The film tells the story of an elderly couple who are overjoyed by the visit of their town-raised grandson. They leave no stone unturned to make sure his home visit is perfect, with their star item being his favorite koli taal. They have selected the prized chicken which will be used for the same. But, when the chicken goes missing, a heartwarming comedy of errors ensues.
This film has the characters and setting just right. The stern patriarch, the adoring grandmother, the town's indifferent grandson, the superstitions, the astrological villagers and the eccentric workers, each of these aspects gives a glimpse of the simple yet complex life that Abhilash chooses to present. The film is short – just over 90 minutes.
The lightweight watch has some parts that could be stretched a bit, but it's ultimately a great showcase of human emotions that's definitely worth checking out in theaters for those who want something different from regular commercials. entertainers.