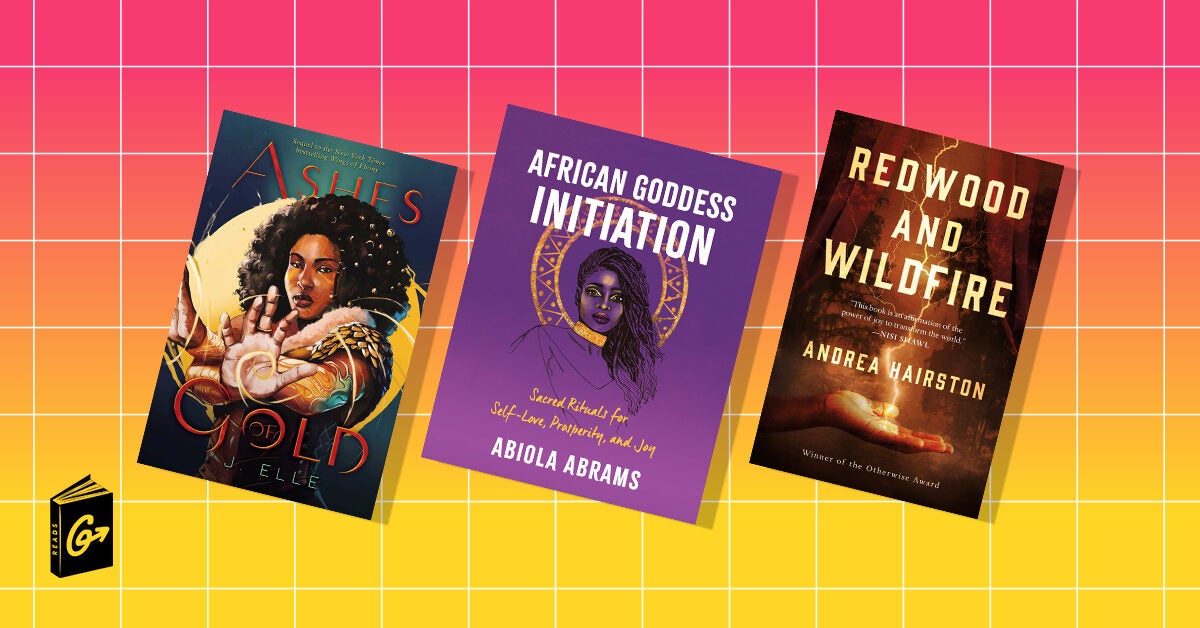 12 Best Books for Black History Month: Fiction, Non-Fiction, Cookbooks
This list was curated by our book editor based on books she's read or sampled and books that have excellent Goodreads reviews.
In honor of Black History Month and to celebrate black voices across multiple genres – including literary fiction, fantasy, young adult, poetry and even cookbooks – we've put together a list of a dozen new titles that caught our attention. We highly recommend adding them to your next playlist.
Of course, that's just a small window into the books that shine a light on black life, history, and joy. We hope this will be a catalyst for you to continue to discover more black voices.
This powerful biography in poems is a rare window into the life of sculptor Augusta Savage. Being black, a woman, and an artist in the Harlem Renaissance (in the 1920s and 1930s) was no small feat. She was an influential and pioneering artist of her time, working to advance equal rights in the arts, and was the first black gallerist in the United States.
Poems by award-winning author Marilyn Nelson chronicle the intense challenges and creative triumphs that August Savage experienced – some of the poems taking the form of his sculptures. It also includes many photographs of his work. It's a piece of America's "hidden history" you don't want to miss.
You may have heard of Roman goddesses like Venus and the Greek goddess Aphrodite, but what about those from many African cultures? Have you heard of the Egyptian/Roma goddess, Sara La Kali, the Haitian Iwa Erzuli Dantor or the Yoruba/Nigerian Yemaya?
For spiritually motivated/curious readers, Abiola Abrams, spiritual teacher, intuitive coach, and oracle deck builder, has written a beautiful guide to sacred rituals for self-love, prosperity, and joy through the ancient wisdom of African ancestors. . The author calls it an "invitation to a sacred healing adventure" and offers 42 rituals inspired by various goddesses, from Nana Buluku to Iset.
You don't want to miss this collection of recipes, stories, essays and art. Editor Bryant Terry, a James Beard and NAACP Image Award-winning chef, describes it as containing "African Diaspora culinary stories," past and present.
Over 100 chefs, artists, activists, scholars, journalists, poets and more have contributed to chapters such as "Motherland", "Land, Liberation, & Food Justice", "Black Women, Food, & Power", "Black, Queer, Food" and "Radical Personal Care". It will look good on your coffee table, yes, but this one is also meant to be enjoyed in the kitchen and shared with friends.
From my heart to your table embodies the essence of home cooking. With recipes like macaroni and cheese, vegan spinach dip, okra bites, okra, chicken nachos, blackberry jam cupcakes, and three different cornbreads, we envision this cookbook showing signs of being well liked in no time. Chef Rene Johnson has created a cookbook with her own fresh, modern vegan recipes, but at the heart is soul food that has been in her family for generations.
We asked Rene a few questions about his cooking, inspiration and more below.
Have your highlighter and sticky notes ready – this collection of essays is the kind of book you'll want to share with friends, re-read and highlight your favorite passages. For fans of uplifting, powerful and lyrical self-tests – and for anyone who's ever felt lonely – this collection offers comfort and inspiration. It recognizes black joy as a resource and tool for resilience, and challenges the stereotypical narrative that black lives consist solely of trauma and hardship. Joy can and does evolve despite these things.
Get ready to hit that pre-order button because this highly anticipated gem of a book comes out in April and is a tribute to the musical masters who have played a huge role in American pop music history. Mahalia Jackson, Aretha Franklin, Gladys Knight, Mariah Carey, to name a few. It's part memoir, part biography, part review, and is written by the podcast host of "Black Girl Songbook" (who also served as an editor at Billboard and Vibe, among other big outlets ).
This first mystery explores family secrets from the Caribbean to California. Estranged siblings Benny and Byron finally unite after their mother's death, but she left them an unusual note: sharing her famous black cake 'when the time is right' and an audio recording that reveals generations of secrets of family. If that doesn't grab you, it's being adapted for TV by Oprah Winfrey's production company. 👀
PS If you're wondering what "black cake" is, it's a very dark, rich, rum-soaked fruit cake from the Caribbean culture. Of course, this is more than just a delicious dessert, and this novel does a beautiful job of showing how family, tradition, and identity are formed as much by the stories that are told as by those that aren't.
Magical realism, hoodoo, time travel and a romance are just the tip of the iceberg in this alternate historical fantasy set in the early 1900s. Redwood, an African American woman, and Aidan, a Seminole Irishman, leaves Georgia due to growing racial tensions and violence. They travel to Chicago, Illinois, where they attempt to live out their truths as gifted performers and conjurers of hoodoo, but they must also come to terms with their traumas.
Early reviewers acknowledge that readers should be prepared for some difficult scenes, but this well-researched and moving story contains strong characters with rich personalities, complex cultures, and a fast-paced plot.
This literary triptych (told in three parts) follows three black women with albinism. They've all had different journeys in life, but all find themselves at a crossroads of self-discovery in this novel set in Shreveport, Louisiana. The place almost feels like a fourth character running through all three stories.
Each of the women has a very distinct voice that we won't soon forget, but the stories all explore themes of dark love, heartbreak, feminine strength, family (including whichever ones you choose) and layers of social and racial histories. Birdsong's writing is haunting and had us completely losing track of time every time we sat down to read.
Return to the Wings of Ebony duology with this bold sequel. We don't want to give away anything in case you haven't read the first one, but we will say that this urban fantasy perfect for the big screen stars Rue, a black teenager from Houston, Texas, who has godly ancestry and must save both the human world and the divine worlds. No pressure, right?
We love brotherhood, family and adventure themes throughout. golden ashes is getting rave reviews so far, and a fan says "I may have enjoyed this one more than WoE […] Learning so much about the tribes and culture of Ghizon reminded me of what Africa could have been like had it not been colonized.
If you like magical realism and coming-of-age stories on college campuses, then check this one out. The author drew on her own experience in Dartmouth to write this YA novel that shows what it's like to be a first-generation black student on a predominantly white Ivy League campus.
It follows a freshman named Echo (yup, like the author) and explores themes of racism, ambition, love, self-esteem, mental health, grief, and friendship as she confronts the reality (not depicted in the glossy pamphlets) of higher education in America.
This mid-level historical novel is loosely based on the story of Maroon communities in the South, where some slaves escaped into deep swamps and forests to create free lives in secret. "It's a story of what could have been," writes the author. It follows 12-year-old Homer as he flees Southerland Plantation with his younger sister and finds a secret community called Freewater.
Although this beautifully written story is technically marketed for ages 8-12, we think it's great reading for all ages. It sheds light on the "untold story" of these "resistance communities" and the multi-layered experience of black people in the 1700s and 1800s.
Naomi Farr is the book editor and a copy editor at Greatist. She likes to focus on all things books, beauty, wellness and mental health. She is also a young adult fantasy and book author. You can find her (and her cat) @avioletlife.